Tips for Dealing With Tragedy in a Marriage (Part 1)
Tragedy—whatever form it may come in—has a way of bringing those affected closer together or tearing them apart. When it's a husband and wife dealing with the tragic events, the losses can get even higher if they can't figure out how to cope together. If you want to be the spouses that cling to each other instead of tear apart, take these tips to heart: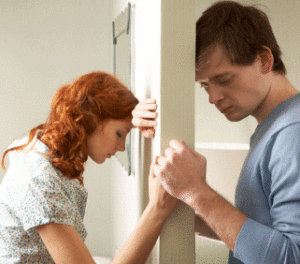 Remember that people grieve in different ways.
Whether it's a death or the loss of a dream or a diagnosis for a serious illness, you and your spouse are going to deal with tragedy differently. One of you may openly cry and want to talk and be held, and the other one may shut off and not show emotion. He may not want to talk right away and instead may want to grieve in silence. Know that it's OKAY if you grieve differently. Give your spouse the space he needs to figure out how to deal with such a significant loss.
If you're the one that needs space to figure out your emotions, verbalize that. Don't leave your spouse wondering why you're so closed off and silent. Simply tell him that this is how you grieve and that you need some time to think and internalize things before doing a big talk. If you're the spouse that wants to talk and be held and you feel like your partner isn't there to listen, verbalize that, too. Tell him you need someone to talk to and a shoulder to cry on, even if he doesn't say anything. A listening ear is often the most comfort during a hard time.
Look for the silver lining.
As hard as it is to feel hope and peace in the midst of a traumatic event, it is possible. You can still find some good in your life even when you feel like you're in the depths of despair. Here are some examples of things that can help lift that often-paralyzing sadness:
A smile, hug, or word of encouragement from someone you love

A beautiful sunrise as you walk through a park

A happy, healthy distraction from the pain, like a feel-good movie or an uplifting book or a night out with a friend

A list you've written of all the things you're grateful for in your life at this very moment

A healthy outlet—painting, music, exercising, gardening, etc.

A conscious plan of how you are going to personally move to higher and happier ground and keep your marriage strong through this challenging time
Don't let yourself fall so deep into the hole of grief that you can't seem to find a reason to crawl out. If you are feeling this way, reach out to your spouse and communicate what you're feeling. It may be worth it to go to a counselor or a therapist who can help you deal with the heart-wrenching emotions you're experiencing. Don't think that you're somehow crazy or weak if you need to see a counselor. In fact, it takes incredible strength to seek out help.
(End of Part 1)
https://lifemarriageretreats.com/wp-content/uploads/2020/02/life-logo-2015-300x300v2-300x300.png
0
0
Gerry Dye
https://lifemarriageretreats.com/wp-content/uploads/2020/02/life-logo-2015-300x300v2-300x300.png
Gerry Dye
2018-06-19 17:28:48
2018-08-09 21:18:42
Tips for Dealing With Tragedy in a Marriage (Part 1)